The Fire at The Good Old Days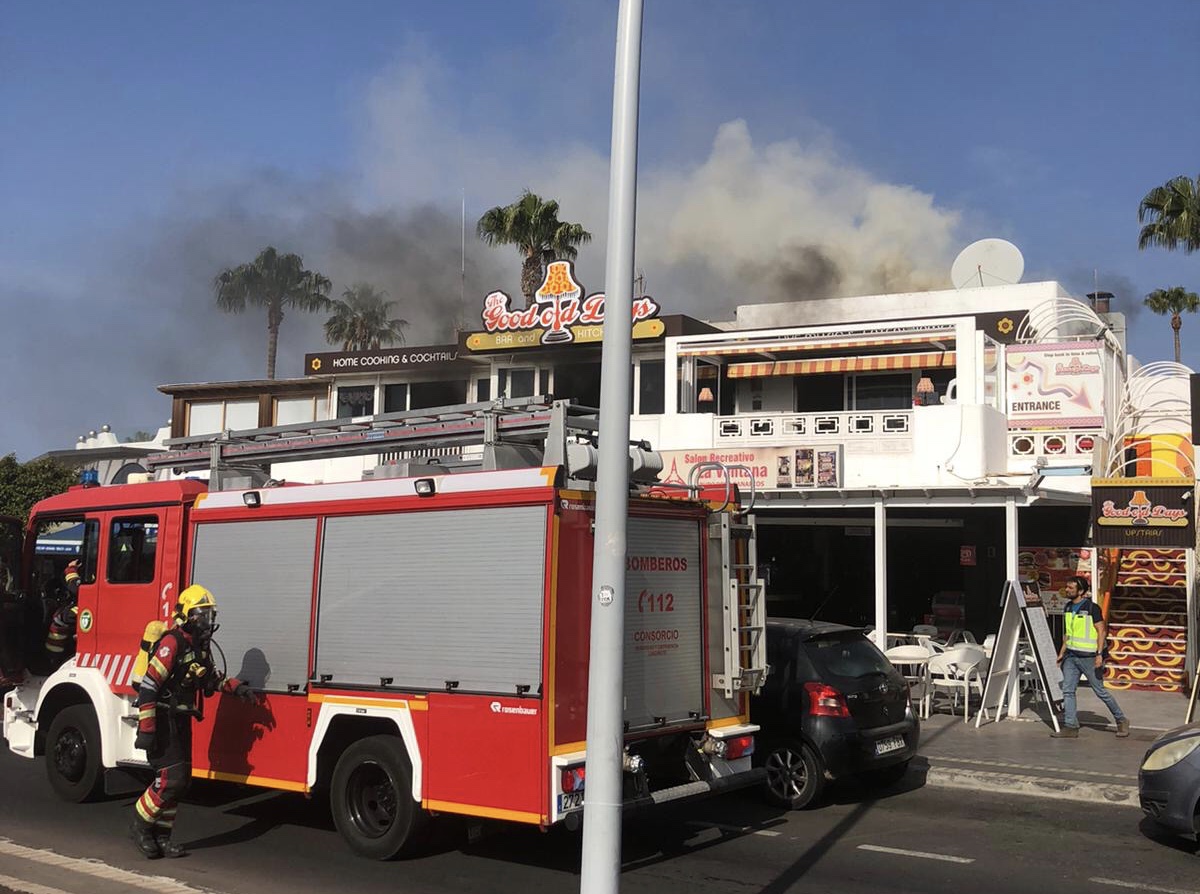 Wednesday the 5th of February a day we'll never forget and would never want to relive. That was the day our beloved Good Old Days caught fire. 
It happened about 10.30 in the morning, just a couple of customers in having breakfast and a couple more just placed their orders. One of the industrial fryers began to smoke, it quickly caught fire and the kitchen was engulfed in flames within seconds. Every restaurant should have fire safety equipment installed. And we had everything that we should legally have. We pay a company every year who visits us and inspects all the equipment, they sign a contact with us to say that the equipment has been inspected and is functioning. Our last inspection had been October 2019. Our equipment that should have worked automatically on the day of the fire however did not, it failed us that day and it almost cost us our livelihood. 
Thankfully everybody escaped unharmed, our staff acted quickly and escorted our customers off the premises, as the fire grew very quickly there was nothing at this point anybody could do but wait for the bomberos (the Spanish fire brigade) to arrive. 
It took the bomberos about 20 minutes to arrive, and 20 minutes stood on the street watching everything you have worked so hard for burn in front of you was like an eternity. Once they did arrive they quickly extinguished the fire and about an hour later we were told it was safe to renter the premises. Walking back up this stairs was horrible, not knowing what to expect. When we enteredthe first thing we noticed was the smell, smoke and a burnt plastic kind of smell. The next thing you noticed was the blackness. EVERYTHING was black, every single surface was covered in thick black soot. After the initial shock we began accessing the damage. The kitchen was completely destroyed, the ceiling had collapsed and everything had melted away. There would be a few things we could save in the coming days but most of it was gone. In the bar and restaurant area somethings had been lost to the fire but thankfully it was mostly smoke damage.
Two hours after the fire, we rolled up our sleeves, went to the shop, bought armfuls of cleaning products and set to work. 
We had people arrive that wanted to help in anyway they could, residents of Lanzarote, other bar owners, friends, staff, holiday makers, the generosity of people overwhelmed us and the community spirit in Lanzarote really shone brightly. 
Everything seemed to take an eternity, no electricity and water for the first week delayed us, the painting alone would take three coats to cover the black. The electricians, plumbers and builders who had not had this work scheduled in did their best to accommodate us and try to get us up and running as quickly as possible. 
After 9 days we were ready to reopen, unfortunately the kitchen equipment that we ordered from mainland Spain had not arrived, but we would open with a limited kitchen menu, drinks and live music and we would do what we could for the moment. 
It was just good to open again. Doing what we do best and what we love. 
Over the next few weeks, as new equipment arrived we would increase the menu, we was very close to having out full menu up and running and then we was instructed to close on the 15th March as the lockdown in Lanzarote began. As I type we are still closed, but we are prepared to work hard when we reopen and have our full menu back on and even a few exciting extras! 
At the time of the fire lots of people asked about our insurance. We were of course insured for fire damage. When we opened the business a broker came to the premises, inspected it, valued it and organized our policy, we trusted them and that it was adequate. However as we discovered it did not cover the extent of the damage nor pay towards being closed for 9 days with staff to pay. The fact that the fire equipment did not function is something we are now pursuing with our lawyer, but these things take time. 
However, we are here, we are still standing, The Good Old Days survived, and we hope it will  be here for years to come. 
We can't explain how much this business means to us. It was built from scratch, the theme, the menu everything is something we sat working on for hours. From drawing a logo in our kids felt tip pens, we invented this business and this brand. It means more to us that we could ever explain, and we are so passionate about it and you! We are driven every day to make your holidays the best they can be. And when you choose us to be a part of your holiday we are always honored. 
To finish we would like to thank the people who ~
Walked up those stairs with us the next morning knowing how much work had to be done
Got neck ache, back ache, arm ache from painting ceilings
Hand washed endless amounts of glasses, plates, pots and pans. 
Sent food around to feed not just us but anybody who was helping us
Took all our rubbish to the tip
Helped us financially 
Looked after our kids
Took home all our washing 
Scrubbed till their hands were raw
Sent countless messages of concern and support 
Donated 70s memorabilia for us to display after some of ours was damaged 
Gave us cuddles when we cried 
Supported us on our first day of reopening and our first gig, singing to the people who had selflessly helped us rebuild our business was very emotional and a night we'll never forget
And lastly to our customers who never left us in any doubt about what the Good Old Days means to them and that it's worth fighting for. 
We love you all! 
Nolita, Charlie and Team GOD